"The insurance industry is fundamentally transforming, as the policyholder becomes more and more connected. With this new offering from IBM, IoT for Insurance, insurers now have the ability to not only obtain the full 360-degree context of their policyholders, but also to aggregate that data into intelligence needed to protect their policy holders and grow their business." ~ Brian Massey
Outcome
I was part of a small team IoT Industry solution team for the Insurance vertical, that designed and prototyped a mobile app for insurance companies and their customers.
---
Process
Even though the app was for IBM's IoT offering, I had to first understand the insurance industry and find out who was involved and the main problems to solve.
User Research and Interviews
This started simply with reading about the industry, followed by stakeholder analysis. I created a stakeholder map on Murally to help visualize the industry, and where our users fit in:
After getting feedback on the accuracy of this map with my wider team, I then searched for insurance industry experts within IBM, matching them up with our personas:
Key stakeholders to interview were highlighted, who could help validate any assumptions that had been made about our personas.

We found that there were a lot of different personas, who all had different needs:
---
Designing together
Having been working in a team spread globally, we had a week long design camp in Raleigh so we could all meet each other and work in the same room.
During this design led week, we worked with product management, sales and engineering to craft our solution together. We followed a revised IBM Design Thinking framework, which involved an iterative process (known as the loop):
By the end of it, we'd created 3 hills, each focusing on just one user, and a minimum viable product to aim for
One of my main roles during this design week was to facilitate the design thinking process
---
Version 1 Prototype
The goal of our first prototype was to showcase the capabilities of IBM's IoT to an Insurance company. It was essentially an app that IBM's sales team could use to demonstrate different use cases for insurance companies, which made the design challenging. Our high fidelity prototype for the first iteration of the insurance project looked like this:
I worked on the front-end of the app using React Native, bridging the gap between design and engineering to hook it up to a back-end
The app let you switch between 2 different types of insurance - home and auto.
We had to build a scalable design at this point, in case different types of insurance needed to be added, such as health insurance for example.
---
Second Iteration
After the first prototype, our small team had to move on off of IoT Insurance, onto another industry vertical: IoT Electronics.
However, the work carried on Insurance, with a new team based in Israel. A few months down the line, we were assigned back to the insurance team to help create version 2.0 of the app.
In the time we had gone, the app had changed a lot due to the business needs, and now looked like this:
There were a lot of new screens, so I had to work with another UX designer to craft a new story for the app to ensure the flow of the app fitted our user needs:
Insurance Story 2.0
---
Combining the story with the new screens
After sketching the storyboard out, and refining the events of the story with our product team, I worked on fitting the app to the users of our story.
This involved creating a UI flow from the current screens that had been handed over, to gain an understanding of how the app works: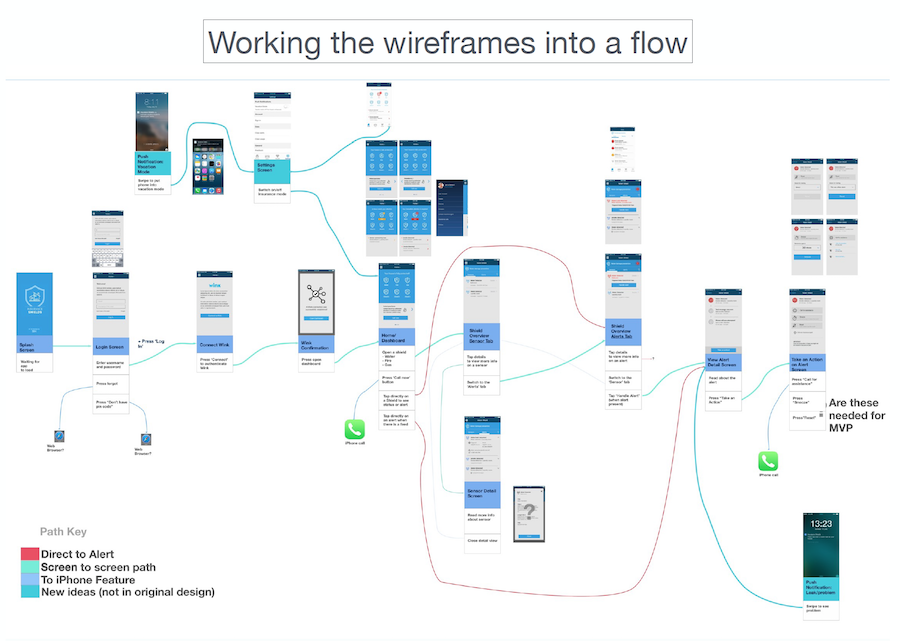 Simplifying the flow
Getting a picture of the entire flow showed that it was quite complex, so I then worked on simplifying the app:
I added my changes to the UI into the flow, making it less complex
Next I handed this part back for testing and more feedback.
It seems to be an impossible puzzle but it's easy to solve a Rubik' Cube using a few algorithms.